Review: MD's Pick Goji Water Rubber Mask ★★★★.☆
The concept of modeling or "rubber" masks isn't foreign by now, they are ubiquitous and nearly everyone who knows a thing or two about skincare is sure to have used one at some point. They are a step-up from regular sheet masks and have a gooey consistency. This allows the user to apply the mask according to their face shapes and sizes, hence getting the best fit and adherence. The concept behind these "rubber" masks is to create a seal between your skin and the mask, thus preventing moisture loss and allowing the nutrients to be delivered efficiently into the skin.
MD's Pick Water Rubber Masks come in 5 variants: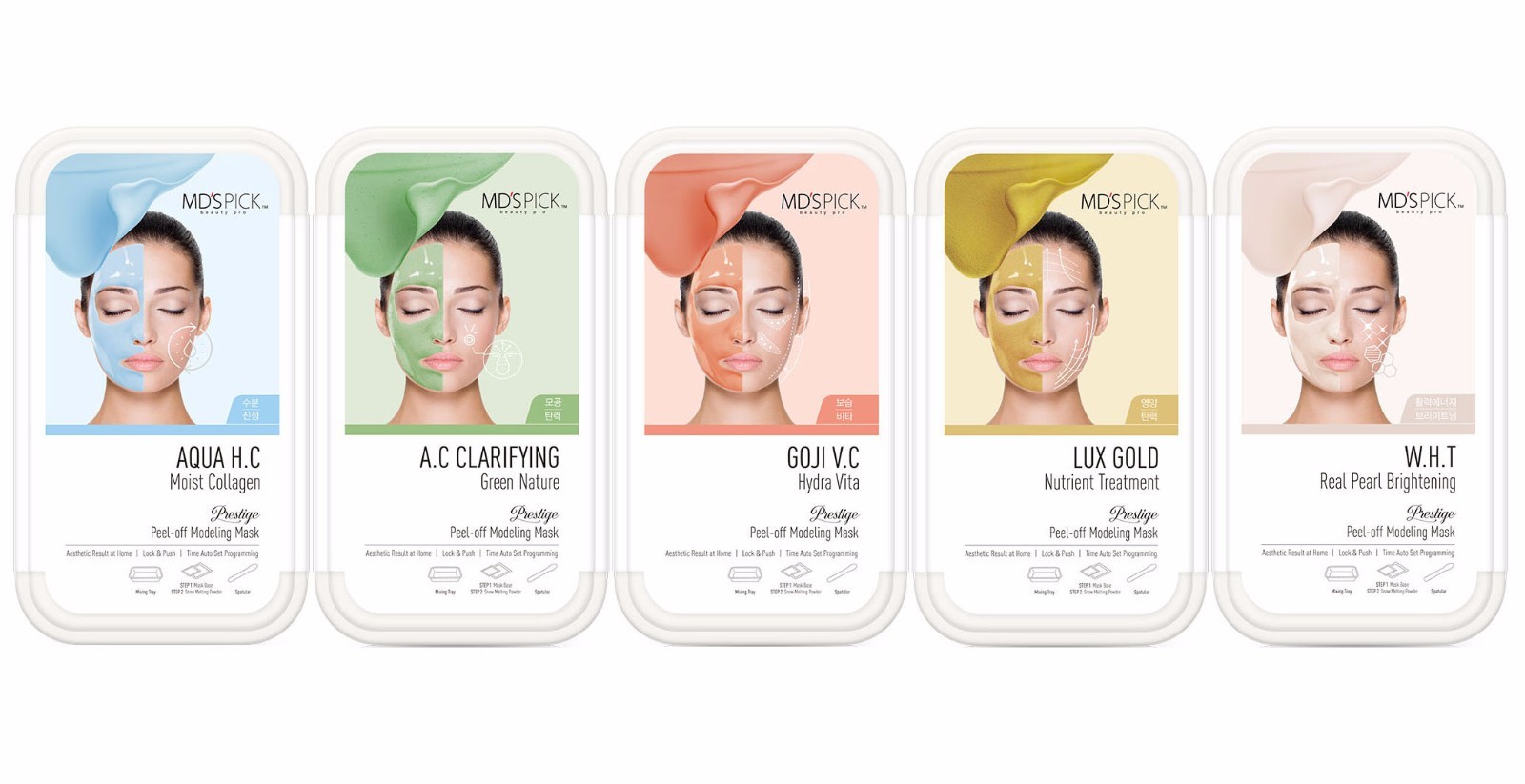 Blue: Aqua Moist Water Rubber Mask (Hydration)
Green: Clarifying Water Rubber Mask (Pore care)
Red: Goji Water Rubber Mask (Calming)
Gold: Lux Gold Water Rubber Mask (Anti-aging)
White: Pearl Brightening Water Rubber Mask (Brightening)
MD's Pick Goji Water Rubber Mask calms irritated skin and rejuvenate an exhausted, depleted complexion. The set comes with a 50 g packet of mask base, a 5g sachet of snow melting powder, a wooden spatula, and a mixing tray.
Each MD's Pick Modeling Rubber Mask begins with an alginate base infused with brightening licorice extract, soothing centella extract, and revitalizing ginger extract. When mixed with the treatment powder, a comforting and soothing gel envelopes skin in hydration. Renowned for its high antioxidant levels, goji berry extract is infused into this mask to revitalize and protect skin while hyaluronic acid hydrates skin. Formulated without parabens and mineral oils.
$12.99 on Amazon.
$9 at Glowrecipe | Receive 15% off your first order with my referral link.
Step 1 (Mask Base):
Aqua, Glycerin, PEG-75, Algin, Potassium Chloride, Butylene Glycol, Niacinamide, Glycyrrhiza Glabra (Licorice) Root Extract, Centella Asiatica Extract, Zingiber Officinale (Ginger) Root Extract, Schizandra Chinensis Fruit Extract, Coptis Japonica Root Extract, Camellia Sinensis Leaf Extract, Propolis Wax, Caprylyl Glycol, 1,2- Hexanediol, PEG-60 Hydrogenated Castor Oil, Trisodium Phosphate, Tetrasodium Pyrophosphate, Cellulose Gum, Simmondsia Chinensis (Jojoba) Seed Oil, Hydrolyzed Collagen, Dioscorea Japonica Root Extract, Plantago Asiatica Extract, Thuja Orientalis Extract, Chamomilla Recutita (Matricaria) Flower Extract, Behenyl Alcohol, Glyceryl Stearate, Lecithin, Glycine Soja (Soybean) Sterols, Morus Alba Bark Extract, Squalane, Hydrogenated Macadamia Seed Oil Esters, Cetearyl Alcohol, Ceramide 3, Lecithin, Chlorphenesin, Copper Tripeptide-1, Acetyl Hexapeptide-8, Sodium Ascorbyl Phosphate, Disodium EDTA

Step 2 (Snow Melting Powder):
Glucose, Calcium Sulfate, Zea Mays (Corn) Starch, Tetrasodium Pyrophosphate, Cucurbita Pepo (Pumpkin) Powder, Lycium Chinense Fruit Extract, Sodium Hyaluronate, Iron Oxides, Fragrance
My skin is feeling dry and slightly irritated. I've cleansed and lightly toned my skin. Find out how I normally prep my skin for masking.
I have a love-hate sentiment about modeling masks sets that come with disposable spatula and mixing tray. On one hand it's really convenient to have but on the other hand it's not environmentally-friendly.
The mask base squeezed out very easily and gave off a pretty strong floral scent. So did the snow melting powder. However, the powder was so fine that it kicked off a cloud of pink dust the moment I started mixing. Good thing I was looking straight at it or it would gone into my eyes.
It was really easy to get them to mix evenly. Just a few quick stirs and it turned into a homogeneous red slime. There was no way to tell that they were made up of 2 different materials.
I've always found the application of modeling masks very challenging. Pressing too hard would not get a thick enough layer on my face while pressing too soft doesn't spread it well.
That aside, I really enjoyed the cooling sensation on my irritated skin the moment the mask touched my face. There was more than enough product for a thick and even layer. Unlike Shangpree Green Modeling Mask, this wasn't as drippy and I was able to complete the application and lay down before the drips occur.
I relaxed with a book for 35 mins, during which my nose suffered from the strong floral fragrance. The cooling sensation sustained throughout the entire masking session. The mask has set but it still felt moist to the touch.
Nudging the edges allowed me to slip a finger under the mask and lift the whole thing up. It came off very easily in one piece but my clumsiness did not handle the moist piece well and it ended up breaking in different places.
There was hardly any essence left to pat in. Finish was non-tacky and looked silky.
My skin felt very hydrated and looked amazing! Skin tone was even and radiant, and redness was completely gone. I think it did a great job at improving my skin texture. Pores were looking smaller, fine lines and pitted scars were plumped, creating a smooth complexion. I felt so refreshed and ready to take on the world!
Below is a side by side comparison of the before and after pictures.
This modeling mask was really effective on my skin. However, if I were to compare it to Shangpree Green Modeling Mask, it did not perform as well that. Plus, my skin condition was pretty bad when I tested out Shangpree. Still, this is alot more affordable than Shangpree's and would serve as a good alternative. Check out more MD's Pick reviews here.
$12.99 on Amazon.
$9 at Glowrecipe | Receive 15% off your first order with my referral link.
Go be beautiful!
Love,
Elaine
Related