Review: Helloganic One a Day Vegetable Sheet Mask – Firming ★★★★☆
Helloganic is a new vegan brand from the same parent company as Huangjisoo. Helloganic One a Day Sheet Mask has 4 variants, each one natural and organic.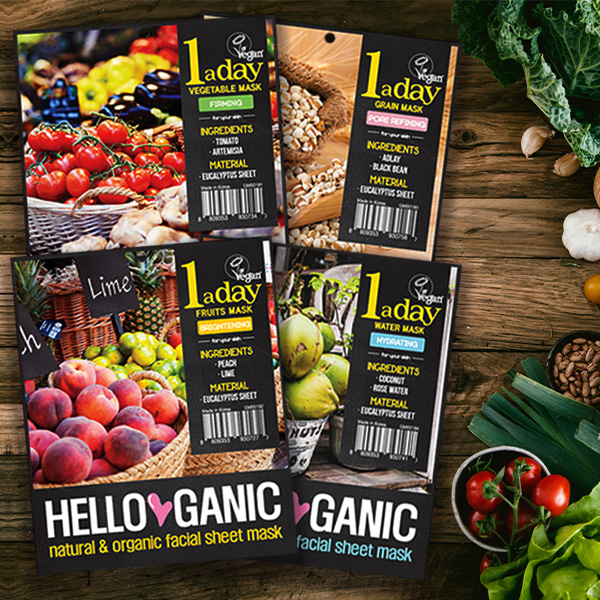 Vegetable Firming,
Fruits Brightening,
Grain Pore Refining &
Water Hydrating
This variant that I'm trying out, Helloganic One a Day Vegetable Sheet Mask – Firming, contains tomato fruit extract as the main ingredient to provide wrinkle care and skin lifting. It claims to maintain skin's youthfulness by restoring elasticity and resilience. 
Tomato is the world's top 10 superfoods. It contains a powerful antioxidant, lycopene, that prevents free radical damage, aids in healthy cellular function, and strengthens skin. Tomatoes contain both vitamin C and vitamin E.
Aqua (Water), Glycereth-26, Solanum Lycopersicum (Tomato) Fruit Extract, Artemisia Vulgaris Extract, Tremella Fuciformis (Mushroom) Extract, 1,2-Hexanediol, Brassica Oleracea Italica (Broccoli) Extract, Hizikia Fusiforme Extract, Glycyrrhiza Glabra (Licorice) Root Extract, Xanthan Gum, Algae Extract, Cetearyl Glucoside, Equisetum Giganteum Extract, Glyceryl Acrylate Panax Ginseng Root Extract, Ethylhexylglycerin, Spirulina Platensis Extract, Dioscorea Villosa (Wild Yam) Root Extract, Adenosine, Yeast Extract, Acrylic Acid Copolymer, Beta-Glucan, Scutellaria Baicalensis (Baikal Skullcap) Root Extract, Punica Granatum (Pomegranate) Extract, Akebia Quinata Extract, Lycium Barbarum Fruit Extract, Sodium Polystyrene Sulfonate, Vitis Vinifera (Grape) Seed Extract, Propylene Glycol, Camellia Sinensis Leaf Extract, Parfum
My skin is extra sensitive and red today. Sebum-wise, it's feeling like normal skin with the usual slight dehydration. I've cleansed and toned my skin. Find out how I normally prep my skin for masking.
Out of the packet, I caught a strong fragrance that reminded me of Dove body wash. Essence was clear and runny.
The eucalyptus fiber sheet felt thin and very smooth. It did not come with a backing.
Fit and adherence were great! I was able to apply the sheet mask without a mirror. It was a very large sheet so coverage was great. I appreciate the larger holes to accommodate features of all sizes. Also, the larger holes prevented essence from getting into my eyes and mouth. The sheet clung on not like second skin, but still very well.
I removed the mask after 30 mins, it was still slightly damp.
The remaining essence took some time to dry down and absorb. Finish was slightly greasy and looked pearly.
My skin felt intensely moisturized but only moderately hydrated. My combo skin did preferred the other way around. However, I did pat in a toner prior to masking so my skin was able to get more hydration compared to masking straight after cleansing. I think dry skin and aging skin will enjoy this more.
The greatest improvement I noticed was to the tightness/firmness of my skin. This mask really came through with its firming claims. The tightening sensation was akin to applying a layer of school glue on the skin and waiting for it to dry. It felt strange yet satisfying. I did notice my laugh lines looking more lifted.
The calmness and brightness of my skin had moderate improvements.
Below is a side by side comparison of the before and after pictures.
Before masking

After masking
Before

After
This is an amazing one for dry and aging skin. The tightening and firming sensation was fascinating! I've never felt a mask that did this before! Can't wait to give the other variants a try! Check out more Helloganic reviews here.
Go be beautiful!
Love,
Elaine
Related